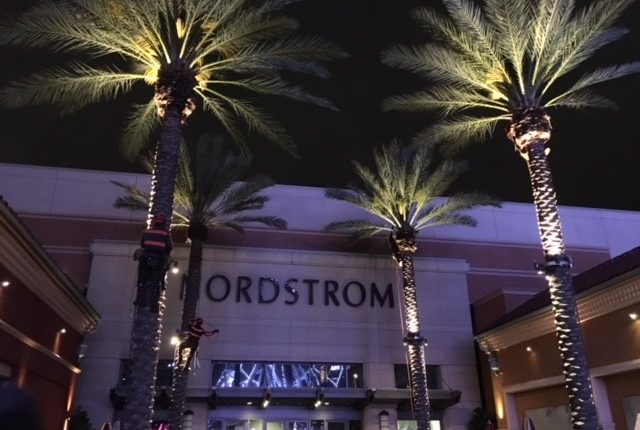 Have you ever walked into an outdoor shopping center or driven into the parking lot of a shopping center and wonder how and when do they trim these trees with so many people? It is a fine art to make sure that trees are properly cared for while not intruding on the traffic of these shopping centers. Well, Great Scott Tree Care (GSTC) is known for caring for trees within shopping centers large and small within Orange County and Southern California and when we trim trees might be a surprise. After the last light in the last store is turned off and that last car exits the parking lot is when Great Scott Tree Care starts working. Yes, that is correct, work on trees begin usually at the late hours of the night and goes through the early hours of the morning. Our Certified Tree Workers have been trained how to properly maneuver through trimming trees during the night.
The Irvine Spectrum is a large shopping center in the City of Irvine that is donned with gorgeous mature Date Palms (Phoenix dactylifera) within the outdoor shopping area as you can see.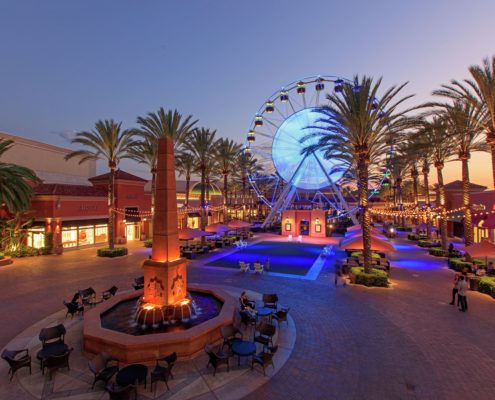 With such a high traffic shopping center, caring and trimming these palms could not be done during normal business hours. The Irvine Spectrum is home to a large movie theatre and many restaurants that are open until late at night. Great Scott Tree Care will begin working on trimming these palms around 2:00 AM and will make sure to be cleaned up and out by the time that first customer arrives. Caring for trees does not wait for the perfect time, and if the perfect time is in the middle of the night, then GSTC will make sure that happens. Our goal is to preserve trees for today and future generations.
https://2kl7f3.p3cdn2.secureserver.net/wp-content/uploads/2018/05/1523079496955.jpg?time=1695359364
2000
3000
wpadmin
https://2kl7f3.p3cdn2.secureserver.net/wp-content/uploads/2018/02/GreatScottTreeService-logo.png
wpadmin
2018-05-23 10:59:48
2018-05-23 11:01:10
Tree Trimming at Night!